Sub-Acute Physical Therapy
Physical Therapy for Injured Workers
We specialize in getting injured workers back to work.
Workplace injuries happen. Despite the best safety measures and precautions, that's just the nature of physically demanding jobs. While prevention is the best medicine, accidents come with the territory and when workers are injured, priority number one becomes getting them back to health.
For nearly 4 decades we've made it our mission to do just that, with programs designed to not only get workers back to the workplace, but to do so in a way that improves functionality and strength.  In addition, our programs serve as an important preventative measure against future injury.
Among the best tools to accomplish this is physical therapy (PT).  Physical therapy is often prescribed for patients to treat problems like soft tissue trauma, nerve inflammation/injury, muscle spasms, fractures, arthritis and other issues.
Our professionally trained physical therapists aim to help improve patients' ability to move, reduce pain, restore function and prevent the patient from becoming disabled.
Since 1983, we have helped workers get back on the job.
We Work Together
Following a comprehensive physical therapy evaluation, we work directly with the patient and physician to develop a personalized return-to-work physical therapy program to meet their individual needs. We do this by incorporating work conditioning that is targeted at restoring functionality for a particular job and integrating specific exercises that simulate work demands.
Superb Communication
Communication is a cornerstone of what we do and the very basis of the strong relationships we build. Our MDs communicate directly with the attending physician and our vocational counselors call the VOC firms and attorney groups representing the patient. We also invite stakeholders to our weekly patient reviews and strive to get reports to the physician within 3 days.
Telehealth Options
Given that we live in an ever-changing world, we've embraced the latest communications technology to offer top-tier telehealth services. Professional assistance is now easily accessible to patients, regardless of their distance from our physical therapy clinics.
Experienced Physical Therapists
At Pacific Rehabilitation Centers, our skilled physical therapists – many of whom have worked in the field for 15-20 years – use evidence-based, interdisciplinary treatment methods to:
* Reduce pain
* Increase flexibility
* Improve range of motion & function
* Build strength
* Correct posture
3 Locations in Puget Sound
Pacific Rehabilitation Centers has three convenient locations in the Puget Sound:
* Everett
* Puyallup
* Puyallup Behavioral Health Clinic
Treatment from the safety of your home
We now have telehealth physical therapy options!
If you are an injured worker that has been referred to us for PT, you may have some questions. We have some answers.
What is physical therapy?
Physical therapy (PT) is care that aims to ease and relieve pain, improve function, move more effortlessly and, ultimately, allows the patient to live a better life. It's often used to recover from a work injury and prevent further injury down the road.
At Pacific Rehabilitation Centers, our team of specialty doctors, PT/OT therapists, vocational counselors and psychologists deliver programs designed to:
Educate the patient about chronic pain
Provide physical therapy and occupational therapy (OT) to strengthen and condition the patient's body
Help the patient overcome barriers that are preventing them from returning to work
Provide support throughout the physical therapy process
Sessions are typically 45 min to 1 hour in length and the frequency of visits varies, depending largely on what the patient's doctor and therapist recommend, as well as what has been authorized by workers' compensation.
How long does the program last?
The length of any individual PT/OT plan will differ depending on the injury as well as the recommended program. In all cases though, our report will go to the stakeholders on the patient's claim. Once it has been received by the claims manager, we will move forward to request authorization for the specified program.
The process of obtaining authorizations can also vary per program. The patient is encouraged to follow up with our intake staff with questions about the status of an authorization.
Once authorization is received, we'll contact the patient to set up a start date and get them on the road back to health.
What happens after program completion?
After completion of the physical therapy program, the patient is discharged and a Discharge Report summarizing progress – including recommendations – will be sent to the patient's Attending Physician, Nurse Case Manager or whoever originally referred the patient to us for physical therapy.
There are a few possibilities after completion of the program:
Referral to a Structured Intensive, Multidisciplinary Program (SIMP)
Referral to Work Conditioning
Referral to continue with a home exercise program that the patient and physical therapist have created
Return to work!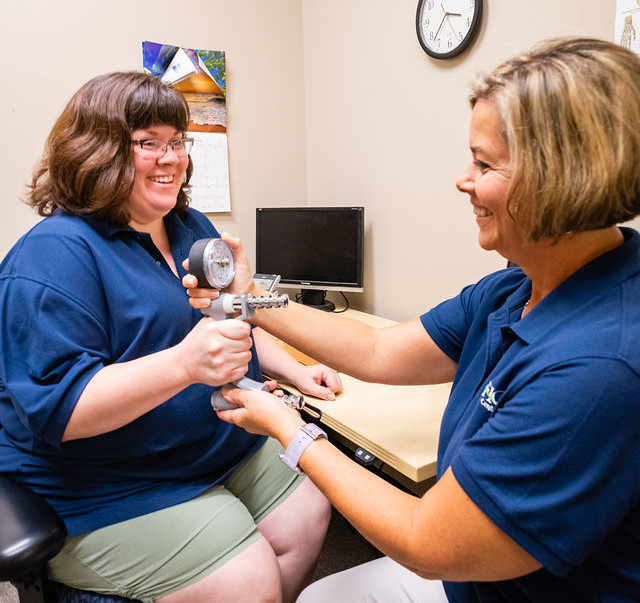 "I loved it! The program was great. The people at PRC dug me out of a hole and saved my life."
"Learned a great deal and thought you guys were great. The experience was really good. Encouraged."
"You turned my client's attitude around! It's great! A huge success! PRC is firmly implanted in my mind!"
We are one of the oldest back-to-work rehabilitation centers in WA.
Pacific Rehabilitation Centers was started in 1984 by a physical therapist, an orthopedic surgeon, a psychologist and a vocational counselor after being frustrated with the limited options for injured workers in the state of Washington.  They dreamed of a multidisciplinary program with clinicians working together, focused on getting patients back to work.
Fast forward almost 40 years and not only are we still here but we have two specialized rehabilitation centers, dozens of dedicated team members and have helped hundreds of Washingtonians get back to work.
Our staff are compassionate and flexible.
It's long been said that you are who you surround yourself with and at Pacific Rehabilitation Centers we take great pride in the profoundly caring and compassionate staff that we've built to surround our patients.
Our passion to help injured workers return to work is grounded in a deep-seated desire to genuinely make a difference in someone's life.
Our staff are experts in their field and are often asked to be presenters at many conferences.
There's talking the talk and then there's walking the walk. With many of our staff being in this field for 15 to 20 years, it's no surprise that they're seen as authorities on the subject and have presented at numerous conferences over the years, like:
Not only that, but we're looked up to among our peers as well and train/support others who work with injured workers.
We truly walk the walk.
1. Referral
Physical therapy for muscular skeletal issues does not require authorization and recommendations for continued treatment are coordinated with the patient's care team.
2. Evaluation
Following a detailed physical therapy evaluation, the physical therapist will work with the patient to develop a specific program to meet their individual needs.
3. Therapy
Pacific Rehabilitation Centers' physical therapists strive to reduce pain, increase flexibility, range of motion and function, build strength and correct posture.
4. Re-Evaluation
Upon completion of the prescribed physical therapy regimen, a post therapy evaluation will be performed to determine if further therapy is needed.
5. Return to Work
Upon successful re-evaluation, the patient will be provided with detailed instructions to transition to a home exercise program. Regular communication with the referring physician is an important part of Physical Therapy at PRC.
Whether you're a medical professional or an injured worker referred to us by your attending physician, Pacific Rehabilitation Centers makes it easy to get on the road to recovery.
For Patients
If you have not yet been referred to us by your attending physician, please let them know that you'd like them to submit a referral. Click the button below to see some frequently asked questions.
ARE YOU A REFERRING PHYSICIAN?
Submit your referral to us through our HIPAA compliant online form.
It's quick, easy, efficient.
If you are having a Medical Health emergency, please call 9-1-1.
If you are having a Mental Health emergency, please call 9-8-8.
9617 7th Avenue SE
Everett, WA 98208
(425) 513-8509 Phone
(425) 290-9774 Fax
info@pacificrehabilitation.com
M-F: 8am – 5pm
1416 East Main, STE F
Puyallup, WA 98372
(253) 445-8663 Phone
(253) 445-8342 Fax
 info@pacificrehabilitation.com
M-F: 8am – 5pm
14715 Bel Red Road, Bldg G, Ste 201
Bellevue, WA 98007
(425) 644-4100
 info@pacificrehabilitation.com
M-F: 8am – 5pm